Enterprise Development is Not Easy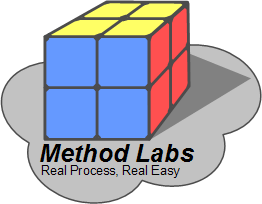 Software development is a constant struggle with complexity. Complex products pose direct difficulties and lead to complex processes, that can slow time-to-market.
Software development can seem like a puzzle where every move is constrained by every past decision. When the process bogs down, less progress is made and more time is spent on crisis management.
Simpler, Faster, Better
The last thing that you need is another complex software development tool or methodology.
Not every puzzle is hard to solve. Often it is the simplest solutions that are easiest to adopt and can yield the largest return on investments.
Usability is key. Customization is key. Adoption is key.
We're on Your Side
Method Labs brings you enterprise-class development tools that easily fit into your process and help solve real development problems right away.
Our products are designed to fit small, medium, or large teams. They are priced within reach of team leads or first-line managers, so you don't need to convince a committee before getting the tool your team needs today.
Our products give immediate and long term benefits no matter where you are in your development cycle, so you don't need to wait for your next project to make process improvements.
You can trust Method Labs to build time-tested software engineering knowledge into the most practical tools.